---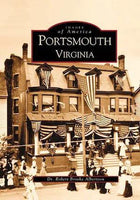 Images of America Series: Portsmouth, VA - Albertson
Portsmouth Museum Gift Shop
Images of America: Portsmouth, Virginia is an educational and entertaining volume that will delight residents and visitors as well as lovers of history everywhere.
Located in heart of the Chesapeake Bay at the zero milepost on the Intracoastal Waterway, Portsmouth's five historic districts and its thriving downtown are living landmarks, reminding onlookers of the gracious living, perilous times, and exciting events that often played a crucial role in the life of the nation.
Here the last Colonial governor of Virginia took refuge, and here Lord Cornwallis garrisoned his British troops before going to Yorktown, where his defeat gave birth to the United States. Here the first ironclad ship, the first battleship, and the first aircraft carrier were designed and built, and here the wounded from all of America's wars since 1830 have been brought to recover at Portsmouth's naval hospital. Vintage photographs within these pages capture the everyday lives of almost four centuries of residents. The ferries that connected Portsmouth to nearby Norfolk, the trains that made it the gateway to the South, and the city's center-its commercial district-all come alive through the images.
Focusing on the Olde Towne historic district, the Naval Hospital, the Naval Shipyard, and the downtown area district, this volume provides a tour of the quaint structures of the oldest part of the city and preserves part of the nation's heritage. Author, and lifelong Portsmouth resident, Robert Albertson draws together postcards, photographs, paintings, and engravings that capture the drama of the city's past and disclose the charm of its neighborhoods.


Pages: 128
Publisher: Arcadia Publishing
Imprint: Arcadia Publishing
Series: Images of America
Publication Date: 16th October 2002
Illustrations Note: Black and White
ISBN: 9780738514543
Format: Paperback
BISACs:
TRAVEL / Pictorials (see also PHOTOGRAPHY / Subjects & Themes / Regional)
PHOTOGRAPHY / Subjects & Themes / Regional (see also TRAVEL / Pictorials)
HISTORY / United States / State & Local / South (AL, AR, FL, GA, KY, LA, MS, NC, SC, TN, VA, WV)